Workshop RailtoLand Erasmus european project "Digital heritage design thinking" to be held from 14th to 18th June in Cagli (Italy)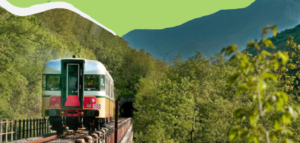 The next RailtoLand Erasmus European project workshop will be held in Cagli (Italy) from 14th to 18th June 2022. Taking place in the Sub-Apennines in the Marche Region, the event will provide an opportunity to learn through virtual experiences and innovative practices for the knowledge, narratives and design about heritage and landscape.
Field learning activities and new knowledge through the experience of a virtual trip on the Porto-Vigo railway line will be offered to the attendees over the five days. This multimedia learning activity on digital tools will provide a new way of appreciating, analyzing, studying and considering the development of heritage sites and landscapes through design.
This will allow experts to exchange digital cultural heritage, survey and representation techniques, geomatics, and urban and landscape design to bring together their experiences and conduct a ground-breaking study.
An update on recent research in this area of expertise will be provided at the closing conference . Experts will describe the progress made in surveying, representing, documenting and designing heritage and landscape, which is currently being strengthened by technology.